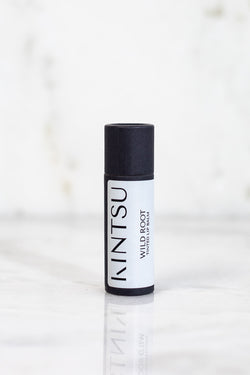 Kintsu
Wild Root Tinted Lip Balm
This all natural lip balm is tinted with Alkanet root (a flowering herb in the borage family) providing a boost of color that pairs well with any skin tone. Completely plant-tinted, this balm is free of any minerals, micas, oxides, clays, or synthetic dyes!
Alkanet root is known to have been used as far back as Ancient Greece to dye various foods and fabrics. This special plant material imparts a subtle wine-red hue that builds upon your lips natural flush tone to accentuate your own color.

Infused with Calendula blossoms, the base for this balm provides a highly protective, repairing, and moisturizing layer for delicate skin. Calendula is prized for its restorative and repairing qualities on the skin. With the addition of rosehip seed oil—which is deeply healing and works to regenerate the skin—this balm is designed to provide a ton of nourishment for your lips, making them softer and more hydrated with use. It's generously sized (twice the size of traditional lip balm) and packaged in fully zero-waste packaging, so you can feel great about what you're putting on your skin and back into the environment.
.30oz | 100% Natural | GF | Sustainable zero-waste packaging