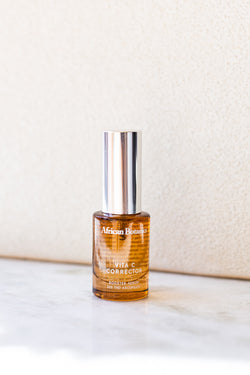 GLASSKIN: ACTIVE SKIN CARE
Vita C Corrector
Vita C Corrector is a waterless booster serum that is powered by the most stable and bio-available form of Vitamin C - THD Ascorbate that penetrates deep into the skin to brighten, illuminate, help produce collagen and provide superior antioxidant protection.

This high-strength serum booster combines a 20% concentration of Vitamin C with an anti-wrinkle Marine Blue Micro-algae, Resurrection Plant, Vitamin E and antioxidant-rich Marula Oil to target signs of aging, hyperpigmentation, dullness, uneven skin tone, sun damage, fine lines and wrinkles while speeding up cellular renewal for radiant and luminous skin. 100% active and biocompatible it is formulated without water, alcohol, dimethicone, fragrance, essential oils and fillers.

This highly active treatment booster should be used daily or 3 - 4 times a year as an intensive course for optimal results.
Key Benefits: 
• Visibly brightens
• Provides antioxidant protection
• Firms skin 
• Promotes radiance
• Helps reduce the appearance of fine lines and wrinkles
How To Use: Use daily in the AM and/or PM. Apply after cleansing, toning/ exfoliating, dispense 1-2 pumps to the areas where uneven skin tone is present or all over your face, neck and decollete with uplifting strokes. Allow Vita C Corrector to soak into your skin for at least a few minutes before following up with your moisturizer and/or face oil. Can be layered/mixed with Nutritive Molecule Serum or with your moisturizer. Use SPF daily to maintain results and to help protect skin from future damage.