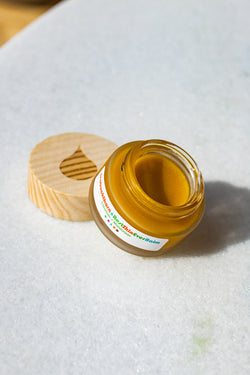 GLASSKIN: ACTIVE SKIN CARE
SEABUCKTHORN BEST SKIN EVER BALM (30 ml)
The transforming texture of our Seabuckthorn Best Skin Ever Balm softens slightly on warm fingertips and glides on like butter to melt away makeup, daily dirt, and environmental exposures. Smooth on and wipe off for pore-level purity and super soft suppleness.
A dab or a dollop: this glossy balm makes it easy to manage how much extra moisture you want as ample omega fatty acids, vitamins, lipids, and hundreds of botanical compounds, grace the face with a luminous, dewy glow. It's the perfect panacea for dry, wind-swept, and cold-chapped skin as cells are solaced by a porous, protective barrier that keeps extra-emollients in and harsh elements out.
Use: All-in-one balm to cleanse, exfoliate, and moisturize. Removes makeup. Beautiful for dry, parched, scorched, and chapped skin.  Combine with other Serums, Elixirs, and Essential Oils to create your own unique blend. Gentle enough for children.