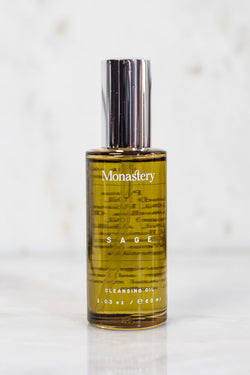 Monastery
Sage Cleansing Oil
This herbally intoxicating and invigorating cleansing oil removes the grit and grime of the day while allowing you a spa worthy-moment at home.  A luxurious oil blend that includes sage, hinoki cypress, and greek coriander balances overactive sebum production, without stripping the skin of its natural protective oils.  The antibacterial properties of the ingredients provide gentle healing to the skin while still keeping the pH intact.
Sage is suitable for normal to acne skin types. Not suggested for ultra sensitive skin. Dermatologist and microbial tested, free of parabens, chemicals and alcohols.
Sage Cleansing Oil melts off makeup, pollutants and impurities, while keeping the skin balanced and nourished. 
How to Use:
Apply to dry skin and massage the face. Remove with damp cloth. Can be alternated with Rose Cleansing Oil.