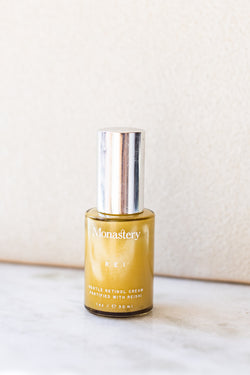 GLASSKIN: ACTIVE SKIN CARE
REI GENTLE RETINOL CREAM
Rei is a potent yet gentle & deeply hydrating retinol packed with the world's finest botanical ingredients. Rei assists in brightening skin, boosting collagen & reducing fine lines while fungi-derived beta-glucan helps protect the skin barrier and accelerate moisture retention. 
REI IS SUITABLE FOR ALL SKIN TYPES. RETINOL SHOULD BE AVOIDED IF PREGNANT, NURSING OR TRYING TO CONCEIVE. 
Key Benefits:
Rei is a potent yet gentle retinol cream with the ability to reduce fine lines, brighten and increase cell turnover while maintaining a nourished skin barrier. 
How to Apply: 

Smooth a few drops onto clean face in the evening or during the day with spa, pairs beautifully with gold or attar.