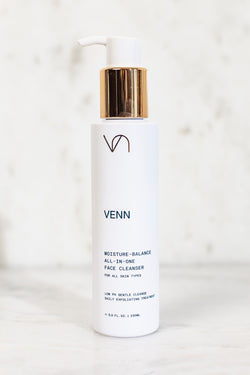 VENN Skincare
Moisture-Balance All-In-One Cleanser
ANTIOXIDANT SUPERCHARGED
CLINICALLY TESTED
MULTI-TASKING CLEANSER
Low-pH, multi-tasking, non-foaming facial cleanser that, in one simple step, deeply cleanses the skin, including pores and wrinkles, removes makeup and any buildup on the skin, and gently exfoliates the skin, while instantly hydrating the skin. Formulated without surfactants, this innovative cleanser uses humectants with particle sizes that are 5-10 times smaller than the average size of facial pores to cleanse the skin deeply and effectively while keeping the skin hydrated and soft.

This advanced cleanser supports the skin barrier with Vitamins B3 (Niacinamide)and B5 (Panthenol) and clinically proven Antioxidants including Centella Asiatica (Cica) Leaf Extract, Ellagic Acid, and Camellia Sinensis (Green Tea) Catechins. It contains PHA (1.5%), Xylitol (and its derivatives), and Fruit Enzymes (Papain and Bromelain) to gently yet effectively exfoliate the skin.

Clinically tested to instantly hydrate the skin, remove make-up, cleanse pores and wrinkles, and exfoliate.

Dermatologist tested. Non-irritating. Non-sensitizing. For all skin types.

Cruelty free. None of our products, including the ingredients, are tested on animals.

Directions: Apply to dry skin in gentle, circular motions to remove dirt, oil and makeup. Add water and further massage. Rinse off with warm water.
KEY INGREDIENTS
This innovative cleanser is formulated without using surfactants. Instead, it uses humectants to deeply cleanse the skin, including pores and wrinkles, while keeping the skin soft and hydrated. Camellia Sinensis Catechins and various plant and fruit extracts help restore balance to the skin, while Vitamins B3 (Niacinamide) and B5 (Panthenol) and Ellagic Acid install radiance to the skin. PHA (1.5%), Xylitol, and Fruit Enzymes gently yet effectively exfoliate the skin.