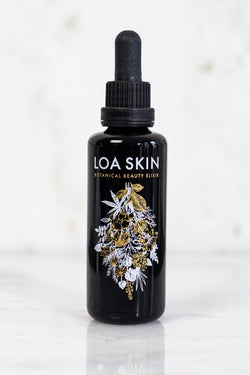 LOA SKIN
Loa Skin: Botanical Beauty Elixir
Botanical Beauty Elixir is a multi-correctional serum & lightweight moisturizer in one. It will leave your skin nourished, soothed, and clear. This is our supercharged, phytoactive infusion of 15 botanicals. It is rich in omega-3 and 6 essential fatty acids, high-performance plant nutrients. It also includes Astaxanthin, one of the most potent antioxidants ever discovered. Always, certified vegan & palm oil-free. ☺

Expected Results: Glowing, clear skin accompanied by long-lasting hydration. Reduction in breakouts, redness, eczema, and acne. Slows the effects of aging.
HOW TO USE
Apply 10+ drops to face & neck; morning and night for effortless absorption. Use more as needed on body, hair and nails. Use in replace of any lotion, cream, serum or moisturizer you currently use. Suitable for all skin types. 
OTHER WAYS TO USE IT
As an oil cleanser, make-up remover and primer, deep conditioning treatment for the hair, added to a relaxing bath, or an at-home soak for a pedicure or manicure treatment. 
Ingredients:
OENOTHERA BIENNIS
EVENING PRIMROSE
Evening primrose oil contains a 9% concentration of the rare omega-6 essential fat GLA (gamma-linolenic acid) and an extremely high linoleic acid content (one of the most important nutrients for skin integrity). It enhances the skin's moisture barrier and significantly improves dry and inflammatory skin conditions.
CANNABIS SATIVA
HEMP SEED
Hemp seed oil is derived from one of the world's most sustainable crops. It's filled with omega-3 and 6 essential fatty acids, inluding the rare SDA (stearidonic acid) and GLA (gamma-linolenic acid) which are critical for skin health. Hemp oil intensely hydrates and soothes problematic conditions.
SALVIA HISPANICA
CHIA SEED
Chia seed oil contains an incredibly high concentration of omega-3 essential fatty acid (alpha-linolenic acid), making it effective for treating dry skin. Chia absorbs quickly, strengthening the skin's moisture barrier and helping to reverse TEWL (trans-epidermal water loss).
CALENDULA OFFICINALIS
CALENDULA
Calendula flowers are extremely soothing, especially for those with itchy and dry skin conditions. It can significantly improve skin hydration and firmness, relieve irritations, soothe eczema, and prevent photo-aging associated with overexposure to UV rays.
ASTRAGALUS MEMBRANACEUS
ASTRAGALUS
Astragalus root is rich in compounds known as astragalosides, which have anti-aging properties as they help to protect fibroblasts against UV damage. Astragalus may also help treat acne symptoms, as it can elevate the protein hormone adiponectin - which is deficient in acne-prone skin.
HAEMATOCOCCUS PLUVIALIS ALGAL
ASTAXANTHIN
Astaxanthin is sourced from microalgae, and is considered by researchers to be one of the most potent antioxidants on earth. Using it topically has been shown to be effective in protecting our skin from damage caused by UV rays, which accounts for 90% of skin aging.
CENTELLA ASIATICA
GOTU KOLA
Traditionally used in Ayurveda, gotu kola is packed full of terpenoid compounds which act as anti-inflammatories and stimulate collagen and hyaluronic acid production in the skin. As a result, Gotu Kola offers itself as a powerful tool for aging skin, to significantly improve hydration, and promote wound repair.
ECHINACEA PURPUREA
ECHINACEA
Similar to CBD, echinacea also has an effect on the endocannabinoid system due to its high level of alkymides. This makes it effective for regulating inflammation in the skin, improving hydration, treating wrinkles, and reducing symptoms associated with eczema and acne.
CURCUMA LONGA
TURMERIC
Rich in curcumin and turmerones, turmeric root has strong anti-inflammatory, antioxidant, and antibacterial properties. It can lessen the severity of psoriasis, eczema, and other inflammatory conditions. Turmeric is also useful for treating hyperpigmentation, due to its skin lightening properties.
GLYCYRRHIZA GLABRA
LICORICE
One of the main components of licorice root is glycyrrhizic acid, which has a number of benefits for the skin. It treats hyperpigmentation, soothes itching in problem areas, protects against UV aging, and acts as a potent antibacterial against the P. acnes bacteria.
MATRICARIA RECUTITA
BLUE CHAMOMILE
Coming from the German chamomile, this essential oil turns into a deep blue colour during the steam distillation extraction process. It offers potent anti-irritant properties with its high content of both bisabolol and chamazulene, which soothes itching in dermatitis conditions.
SERENOA REPENS
SAW PALMETTO
The saw palmetto berry can reduce the skin's sebum production significantly, making it a highly useful and unique skin ingredient. Since excess sebum is the causation behind acne breakouts and oily skin, saw palmetto can naturally help to limit these effects.
JASMINUM SAMBAC
JASMINE
Jasmine absolute oil has an incredible aroma, and is used in a very small concentration in our formula. Jasmine has antifungal properties against malassezia, which is associated with skin conditions like dandruff and folliculitis.
ROSMARINUS OFFICINALIS
ROSEMARY
Rosemary is rich in carnosic acid, and serves as a strong antioxidant for helping to prevent oxidative stress in the skin caused by direct exposure to UV rays and environmental pollutants. It also helps to preserve the shelf life of Botanical Beauty Elixir.
CITRUS AURANTIUM BERGAMIA
BERGAMOT
Our bergamot essential oil is bergaptene-free, making it safe to use in the sun. It offers antimicrobial and anti-inflammatory properties.