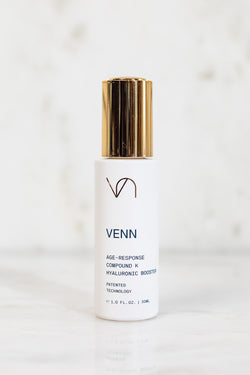 VENN Skincare
Age-Response Compound K Hyaluronic Booster (30ml)
Anti-aging and brightening boosting serum supercharged with 2,550 ppm of VENN's patented form of Ginsenoside Compound K, the main metabolite and a key anti-aging active component of Panax Ginseng. Ginsenoside Compound K, at 750ppm of concentration, shows as strong free-radical-fighting antioxidant power as the maximum antioxidant power of vitamin C, and unlike vitamin C, it does not oxidize and is not sensitizing. The Booster uses 2,550ppm of Ginsenoside Compound K.
The Booster features VENN's patented technology to water-solubilize Ginsenoside Compound K and thereby use potent concentrations of it in the formulation for brighter, firmer, and more even-looking skin.
The Booster is also packed with 5 different types of medium- and high-weight hyaluronic molecules, Peptides, Polyamine, and Vitamins B1, B2, B3 (Niacinamide), and B9 that work synergistically with Ginsenoside Compound K to provide comprehensive anti-aging skin benefits, including strengthening the skin and visibly reducing wrinkles, pores, and discoloration.
Clinically tested to reduce trans-epidermal water loss, brighten skin's appearance, improve skin elasticity, improve skin firmness, visibly reduce wrinkles, and visibly minimize pores.