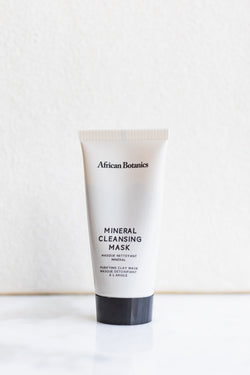 African Botanics
Mineral Cleansing Mask
Mineral Cleansing Mask is packed with cutting-edge plant stem cell biotechnology, niacinamide, lactic acid, essential minerals and unique botanicals. This clay-based treatment clarifies and revitalizes dull, congested skin without irritation or dehydration. Specifically designed to help with pollution, skin congestion, redness and uneven skin tone with advanced age defying actives, nutrients, vitamins and minerals.
Benefits:
• Absorbs pollution and clears pores
• Reduces excess oil production
• Speeds healing of blemishes
• Soothes and tightens skin
• Helps brighten and even skin tone


How to Use:
After cleansing/exfoliating, apply a thinlayer to clean skin using fingertips, avoiding the eye area. Relax and allow the mask to work for 5-15 min. Add warm water and lightly massage using a circular motion to gently exfoliate. Indulge 2 - 3 times a week depending on your skin's needs.