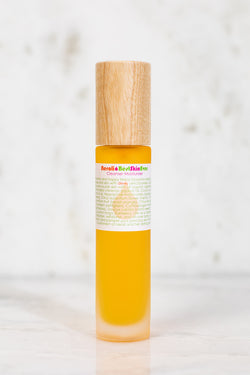 Living Libations
Living Libations Best Skin Ever: Neroli (50mL)
Living Libations Neroli Best Skin Ever unleashes your inner princess (or prince!) as you anoint skin and face with the dewy deliciousness of this Best Skin Ever's grace. Shower your skin like royalty with the nourishment of Neroli Blossoms and her doting skin attendants. When Neroli, Blood Orange and Mandarin combine with Seabuckthorn, your skin will feel so fine! This stimulating signature scent is crafted with pure Jojoba, coco-crème, and Carrot Seed for moisture, Turmeric and Seabuckthorn, Neroli to smooth, Blood Orange to tone, Mandarin Petitgrain to perfect pores, and Palmarosa to soothe skin oil production.
Uses: As a cleanser, moisturizer, exfoliator and all-over body care; put one or two squirts into your palm. Using your fingertips, gently massage the face, neck or body. Removes makeup and rehydrate skin. Beautiful for after sun rehydration. Combine with other Serums, Elixirs and Essential Oils to create your own unique blend. 
Organic Ingredients:-
Golden Jojoba - Simmondsia chinensis
Seabuckthorn supercritical extract - Hippophae rhamnoides
Neroli - Citrus aurantium
Blood Orange - Citrus sinensis
Mandarin Petitgrain - Citrus reticulate
Palmarosa - Cymbopogon martini
Carrot Seed - Daucus carota
Virgin Coconut Oil - Cocos nucifera
Directions: Cleansing your Face with Best Skin Ever
Wet a small portion of a cloth with water.
Apply one to two squirts of any of the Best Skin Evers (Seabuckthorn, Sandalwood, Rose, Frankincense, or Neroli), to the dampened portion of the face cloth.
Gently massage the face, neck and back of the neck with the moistened cloth. Wash gently or wash vigorously for a deeper exfoliating effect. Rinsing the face is optional.
If more moisture is needed, add another squirt or two of any of our Best Skin Evers or Libations Serums (Rose Glow, Soothsayer, Royal Rose, Sandalwood, Chocolate Karat, or Open Sky) to your fingertips and massage into the face and neck. If your skin feels extra thirsty, a Libations Crème (Sundew, Rose Glow, All Seeing, or Maverick) will satisfy.